Welcome to BatchCAD:
Your Ultimate Batch Printing Solution for AutoCAD!

About BatchCAD
BatchCAD, developed by IKUS Software, is a powerful and efficient AutoCAD utility designed to streamline your printing process. Say goodbye to manual printing hassles and hello to effortless batch printing. With BatchCAD, you can print hundreds of AutoCAD documents within minutes, saving you valuable time and effort.
Batch Printing
Print hundreds of AutoCAD documents in batch mode, reducing hours of work to mere minutes.

Printing Options
Customize printing configurations such as printer selection, print size, print area, and print style similar to the AutoCAD printing dialog.

Compatibility
Compatible with Windows 7 and greater, also compatible with AutoCAD 2007 and newer versions, ensuring seamless integration with your existing setup.

PDF Conversion
Combine BatchCAD with a PDF printer to swiftly convert AutoCAD documents into PDF files, ready to be shared with clients and colleagues.

OpenSource and Free
BatchCAD is an OpenSource software provided free of charge for personal and business use, fostering collaboration and accessibility.

Save Time and Effort
BatchCAD automates the tedious task of printing multiple AutoCAD documents. What would take hours manually can now be done within minutes, allowing you to focus on more critical aspects of your work.

Customization at Your Fingertips

Configure printing options precisely to your needs. Whether you need specific print sizes, styles, or areas, BatchCAD provides the flexibility you require, just like the AutoCAD printing dialog.

Cost-Effective Solution

BatchCAD is completely free of charge for both personal and business users. Enjoy the benefits of efficient batch printing without any financial burden.

Get Started Today!
​Ready to simplify your AutoCAD printing process? Download BatchCAD now and experience the convenience of batch printing at its best. Join our growing community of satisfied users who have embraced the power of BatchCAD.
How BatchCAD Works
BatchCAD simplifies your printing process in just a few steps. When you launch BatchCAD, it immediately prompts you to select the files you want to print. You can then customize your printing configurations for all the selected files. Once you're satisfied with your settings, a single click on the "Start" button initiates the printing process. BatchCAD takes care of the rest – automatically opening each file and printing them according to your specified settings.
It's seamless, efficient, and designed to save you valuable time and effort.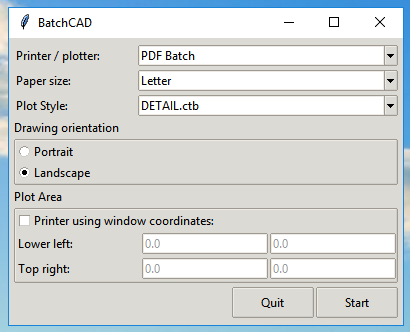 Contact BatchCAD
Have questions or need other AutoCAD automation for your business ? Our dedicated team is here to help.